BACKGROUND
Naspoti J&M Security Solutions (Pty) Ltd, a duly autonomous registered legal security services provider, is the result of a unique collaboration between J&M Business Security CC and Nasporti CC in the latter part of 2010. NJSS has since established itself as a well known and respected security brand in the broader Lowveld region whilst continuously extending its footprint throughout Mpumalanga. Nasporti CC owns the majority shareholding of 51% whilst J&M owns 49% of the collaboration's shares.
Striving towards a fully fledged BBBEE formation company embedded in its initial objective of true commitment towards transformation the shareholders and directors of NJSS recognized the necessity to ensure that the company had the capacity and financial ability to undertake vast projects as turn-key and one-stop integrated security solutions. An initial Joint Venture business model was entertained between the two companies, which seemed to provide the best platform and opportunities since J&M Business Security as an established and most respected brand name in the Lowveld Region of Mpumalanga with a proven track record in excess of 32 years and Nasporti CC's management ability skills and knowledge within this entity seemed to be that of a winning recipe.
To this extend it is worth mentioning that CEO Danie Coetser, has been the Chairperson of the Business Division of the esteemed Kruger Lowveld Chamber for Business and Tourism for many a year, member of council of the Tswane University of Technology since January 2013 whilst serving in the capacity of Member of the Finance Committee and Chairperson of TUT's Tender Committee, Chairperson of the Riverside Park Precinct Association Security Committee for the past 5 years, special advisor to- and member of the Executive Committee of Business Against Crime Mpumalanga as well as a past member of the steering committee of the Mpumalanga National Institute for Higher Education (NIHE) to name but a few.
Whilst NJSS Executive Board Member and Director Corporate Services Kevin Pillay, holds the position of Chairperson of the Mpumalanga Provincial Community Police Forum (CPF) as well as vice-chair of the National CPF Board, other members of NJSS management are represented on various Local CPF's, POLSEC (SAPS and Private Security forum) meetings etc. with the aim of enhancing NJSS vision and mission.
BOARD OF DIRECTORS AND COMPANY STRUCTURE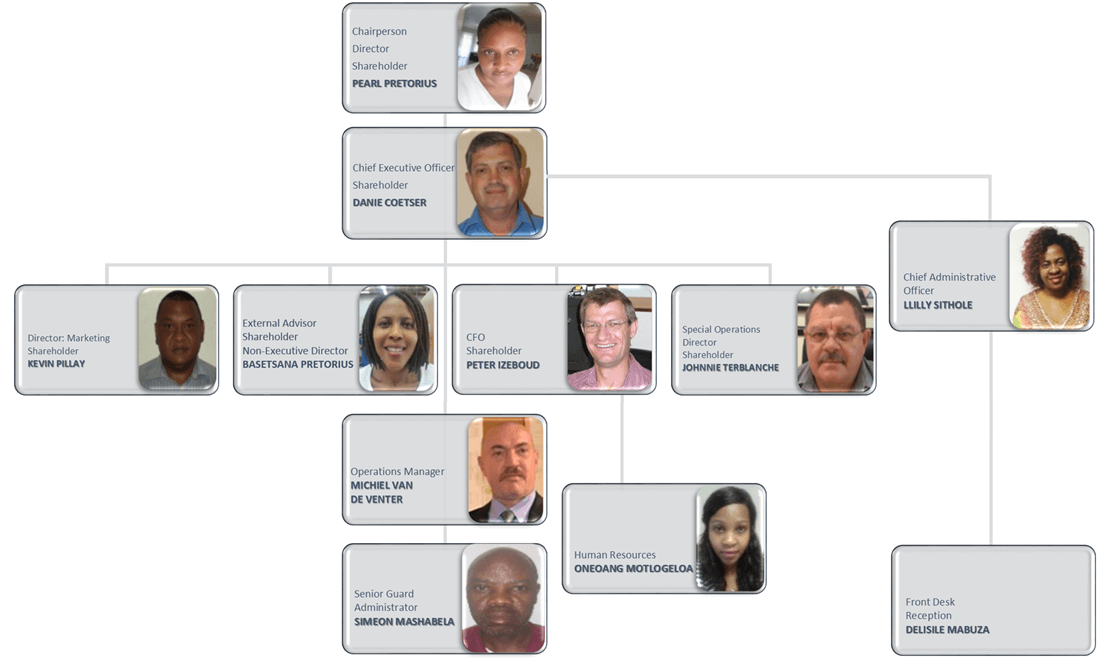 MISSION, VISION & VALUES
At Naspoti J&M Security Solutions we believe being a responsible corporate citizen is not only the right thing to do, but the right thing to do for our business. In an ever changing world and business environment we continue to thrive as a key role player in a highly competitive security industry to understand the trends and forces that will shape our business for the future and move swiftly to be positioned as the preferred provider of security solutions to all security requirements and challenges.
It creates a sustainable and long-term destination for our business and provides us with a "Roadmap" to be able to be recognized and respected by our fellow employees, business partners and clientele alike.
MISSION
Our mission declares our purpose as a company and serves as the standard against which we weigh our actions and decisions.
• To refresh the world...
• To inspire moments of optimism and happiness...
• To create value and make a difference...
Our mission is to be the premier provider of security solutions and products. We seek to produce financial rewards to shareholders as we provide opportunities for growth and enrichment to our employees, our business partners and the communities in which we operate. And in everything we do, we strive for honesty, fairness and integrity.
VISION
Our vision serves as the framework for our Roadmap and guides every aspect of our business by describing what we need to accomplish in order to continue achieving sustainable, quality growth.
• People: Be a great place of employment where people are inspired to be the best they can be.
• Portfolio: Bring to the world a portfolio of quality security solutions that anticipate and satisfy people's desires and needs.
• Partners: Nurture a winning network of customers and suppliers; together we create mutual, enduring values.
• Planet: Be a responsible citizen that makes a difference by helping build and support sustainable business relations amongst fellow workers, business partners and clients.
VALUES
Our Winning Culture
Our Winning Culture defines the attitudes and behaviors that will be required of us to make our Vision a reality.
Live Our Values
Our values serve as a compass for our actions and describe how we behave in the world.
• Leadership: The courage to shape a better future
• Collaboration: Leverage collective genius
• Integrity: Be real
• Accountability: If it is to be, it's up to me
• Passion: Committed in heart and mind
• Diversity: As inclusive as our brands
• Quality: What we do, we continuously do well whilst striving to do better
Focus on the Market
• Focus on needs of our consumers, customers and partners
• Get out into the market and listen, observe and learn
• Possess a world view
• Focus on quality execution in the marketplace every day
• Be insatiably curious
Work Smart
• Act with urgency
• Remain responsive to change
• Have the courage to change course when needed
• Remain constructively discontent
• Work efficiently
Act Like Owners
• Be accountable for our actions and inactions
• Steward system assets and focus on building value
• Reward our people for taking risks and finding better ways to solve problems
• Learn from our outcomes -- what worked and what didn't
Be the Brand
• Inspire creativity, passion, optimism and fun
OBJECTIVES
Our purpose at Naspoti J&M Security Solutions, is to improve the lives of all those around us. Our culture is based on a unwavering belief in honesty, integrity, moral values, fair dealings and good business practice. It is therefor our choice to identify and target our clients of choice allowing us to nurture our reputation by delivering a more personalized service and be the leaders in our industry and area. It is our passion to be the security company of choice in our community.
GOALS
We commit ourselves to providing the best standard of service and the highest quality products to all those we serve. We live up to our responsibility to maintain and enhance a safe and secure environment for all in the Lowveld area of Mpumalanga and beyond. We work in unison as a team for the benefit of each other by embracing the strengths and differences through constant recognition, proudly going home at the end of the day knowing that we have made a difference in someone else's life.
PHILOSOPHY
The only intermediate through which one can successfully address the problem of criminal activity within a given environment, is to achieve a condition where prospective perpetrators of crime would consider the risk to extreme for any significant gain.
Given the general acceptance that the perpetrator cannot be stopped from entering the premises, logic dictates that the objectives of any defensive measures would be to make the attractive goods as inaccessible as possible.
Considering the above, Naspoti J&M's professional and highly skilled management team with more than 70 years' experience in the security and business management environment commits itself to service excellence.
PERSONNEL
The company employs a total in excess of 150 staff members and security officers and maintain a black equity ration in excess of 90% across the board focussed on recruiting empowerment of previously disadvantaged female security officers.
EXPERIENCE AND TRACK RECORD
The Brand has collectively been involved in the security industry for more than 32 years providing a range of high-end service to more than 4500 satisfied clients. The brand is involved in niche security services such as special events security, VIP protection, high value cargo protection and Integrated CCTV Surveillance with great accomplishment.
CONCLUSION
The Naspoti J&M collaboration is a uniquely suitable formation addressing preferential procurement requirements placed on organizations. As a brand NJSS strikes a balance
between addressing BBBEE requirements with SME development obligations and yet assuring capacity to provide services as implied in the BBBEE Codes of Good practice and the Procurement and Supply Chain Management Policies and other Regulations.